Speed up your design even with the largest projects

Vertex G4Plant Plant and Pipeline Design Software
Vertex G4Plant Plant and Pipeline Design
Versatile and feature -based parametric 3D design software for all size industrial plant models.
The speed of the design and modeling relies on effective special functions, which utilize built-in library components
to create the intelligent plant model graphically and quickly.
The modern user interface provides clear buttons in accordance with the order refined by your workflow.
Easy to learn, easy to use.

A comprehensive range of document templates included.
Documents produced from 3D -models meet the particular needs of even the largest plant project :
drawings | isometrics | pictorial profile cutting lists | material lists in Excel format | 3D pdf
Vertex G4Plant contains a wide range 3D mechanical design software Vertex G4 as standard.
Best User Experience.
Easy to learn. Speeds ​​up your design work.
The new fresh and lighter look. The icons and the location of functions are fine-tuned to the speed and findability in mind.
New features in order to facilitate and accelerate the daily design work for the power users.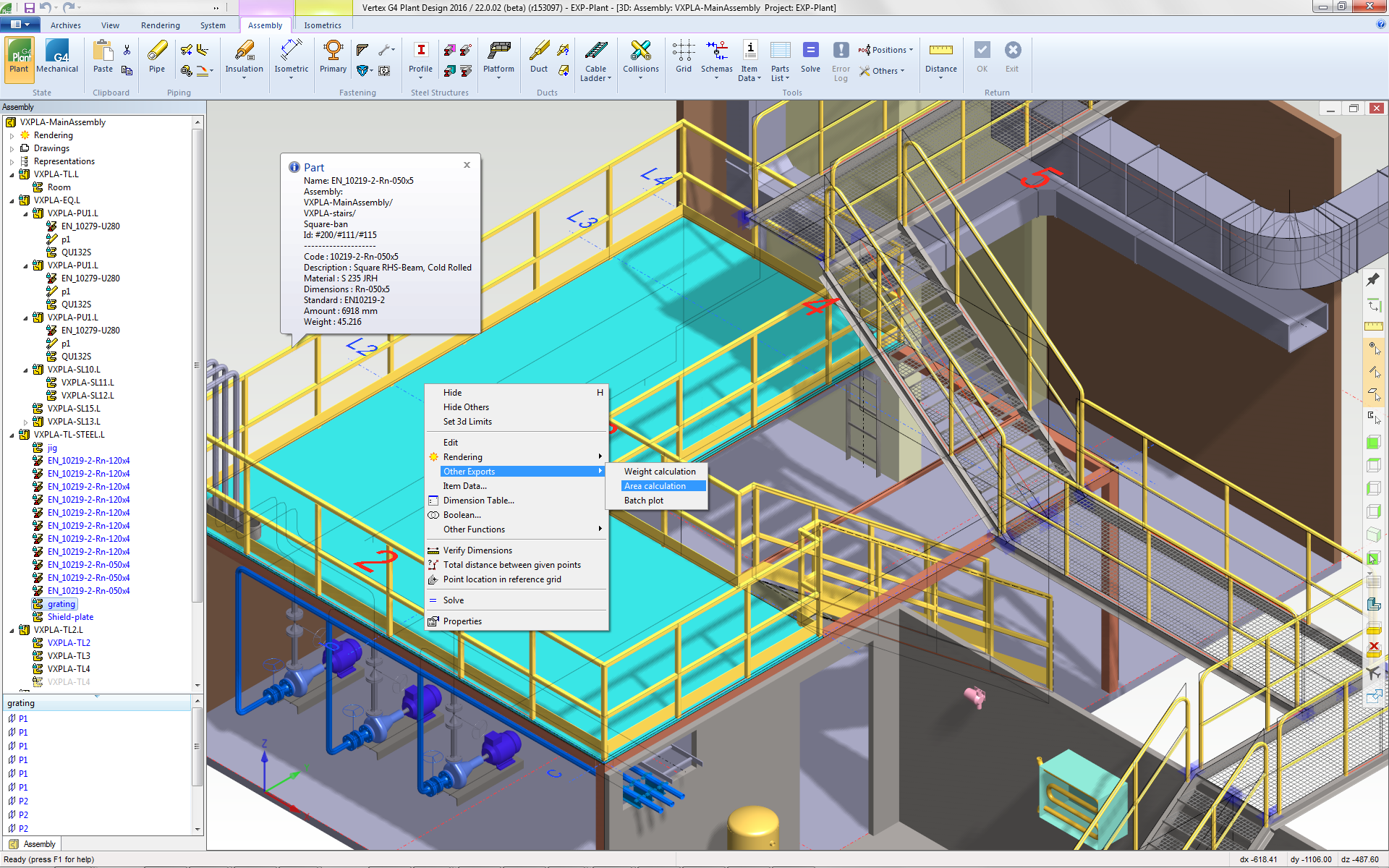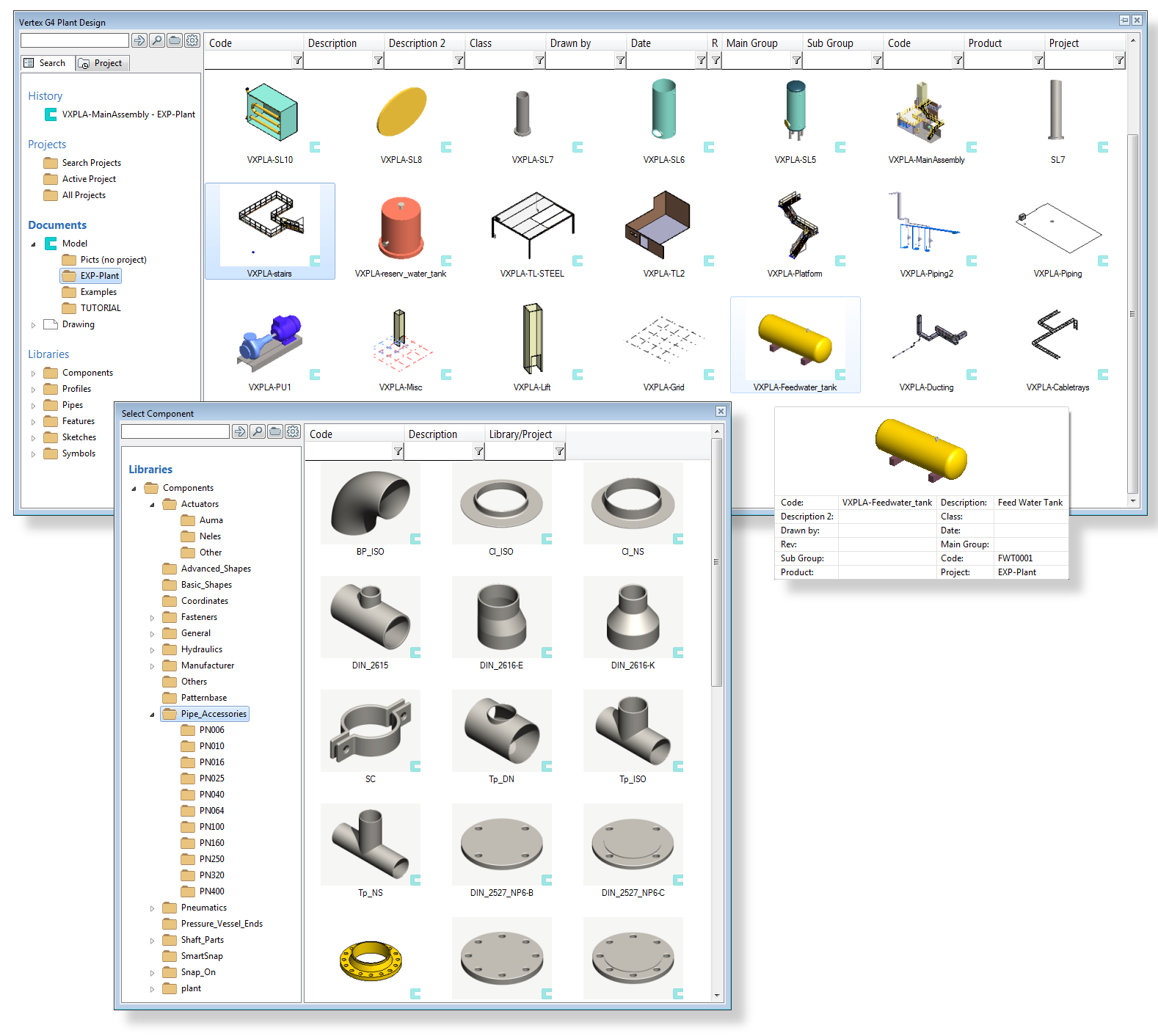 Illustrate your design in the surrounding terrain!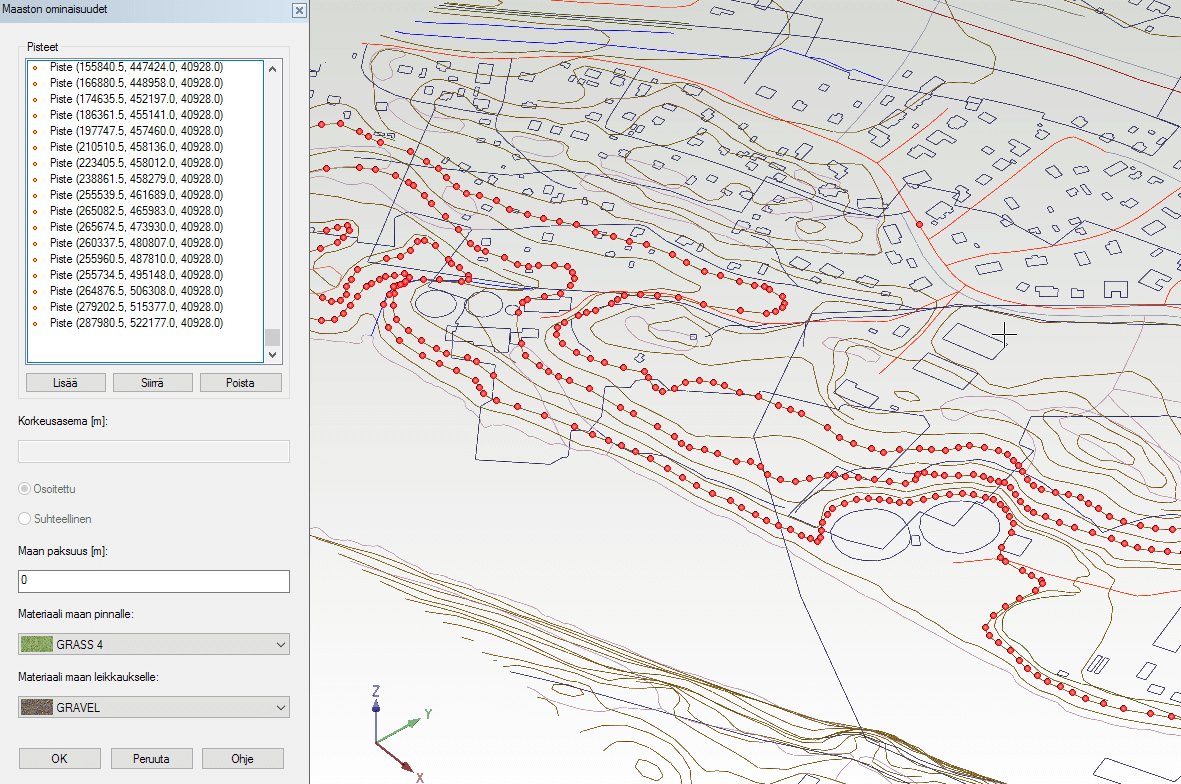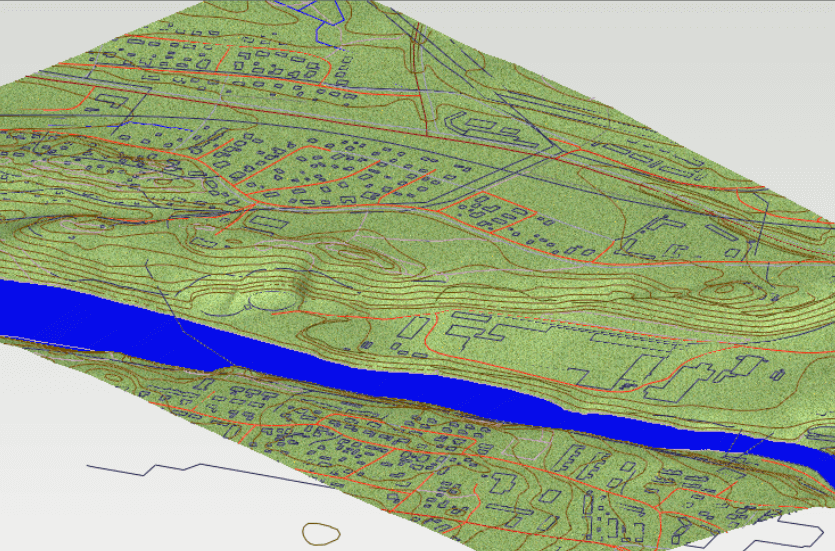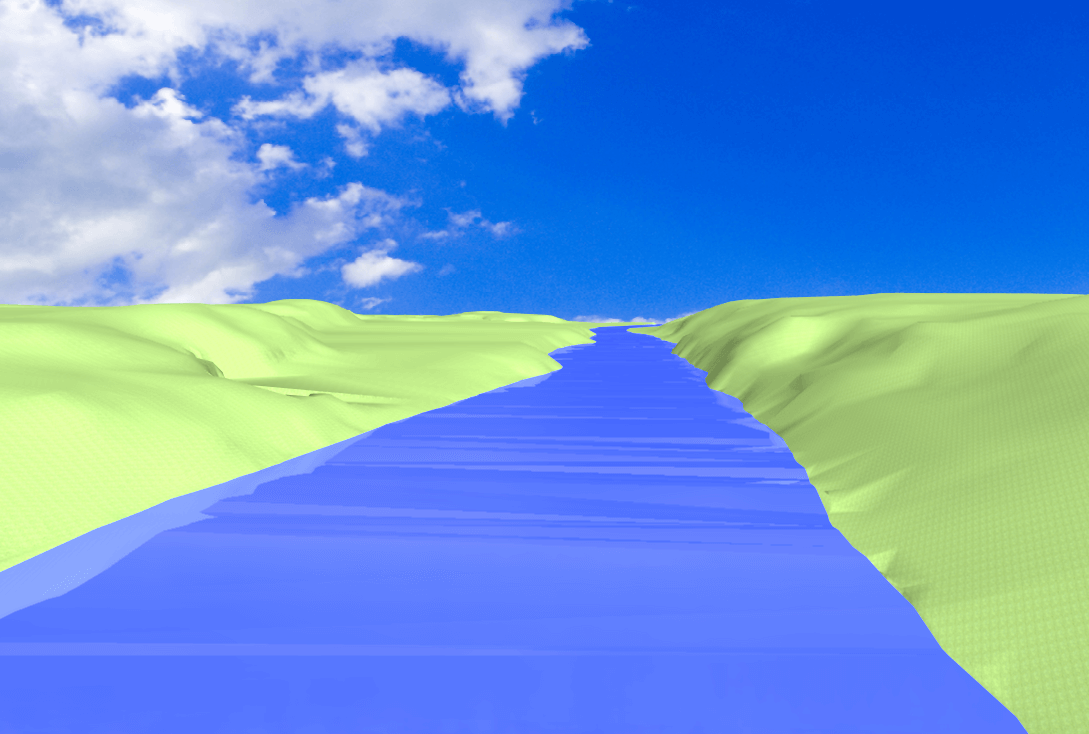 Model the surrounding terrain easily with terrain modeling tool with the help of contours of a 3D DWG files.
You can also modify the terrain model, or add realistic textures on terrain.
Use powerful parametric tools and comprehensive component library for modeling the building and equipment.
Customizable visualization features allow creation of finalized architectural drawings.
Save design time and costs by using Import -features with a wide range of supported CAD file formats.
Point clouds
Fast and errorless renewal design.
Laser scanned point cloud brings your design object to Vertex realistically and accurately.
Point clouds can be imported in following formats: ascii ( xyz ) , LAS , LAZ , PTS , PTX , E57 , STL.
Vertex supports scanning view points as well as intensity values ​​and colors, if these are stored in the point cloud file.
Vertex also takes care of triangulation with cloud file points for shading.
You can snap to cloud point for dimensioning and reference. Part of cloud points can also be deleted by area selection.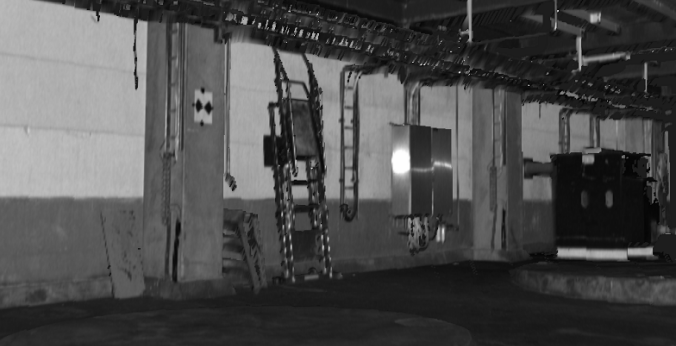 Import as surface model
Support for colors and light intensity (grayscale).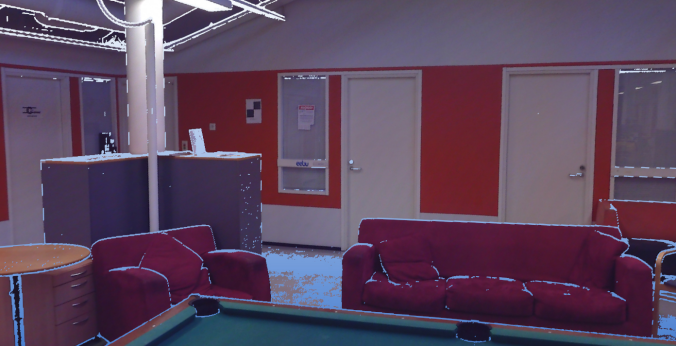 Color and brightness
View scanned object with photorealism.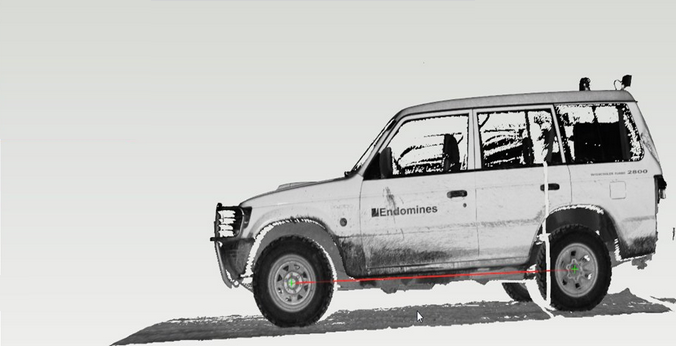 Dimension and reference
Design accurately utilizing the point cloud of the object.
Turn on various design projects quickly!
Vertex G4Plant always contains all the PSK pipe classes and an extensive library of piping components .
Create the piping model with powerful design features and generate the isometrics automatically from the model.
Piping designer has always a seamless connection between process design and process information.
Clear and consistent user interface in G4Plant software means it´s easy to learn and you can quickly start using it.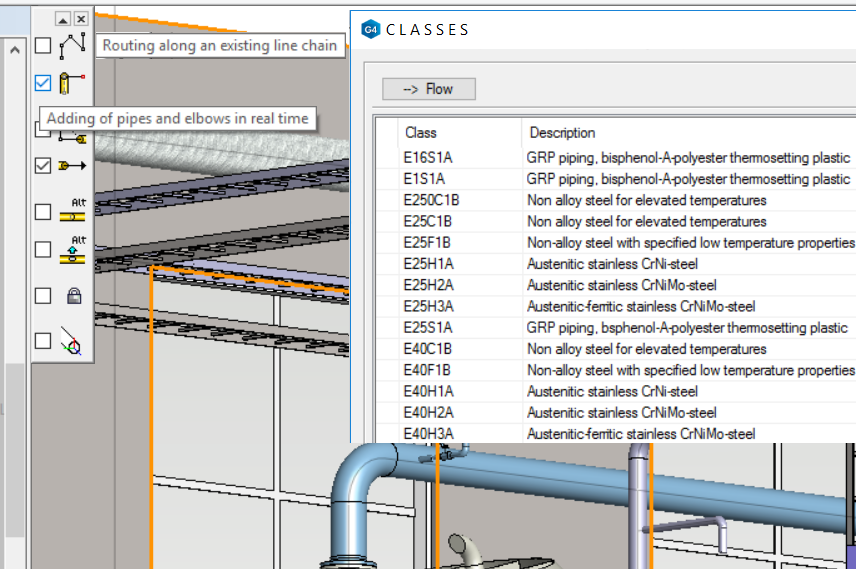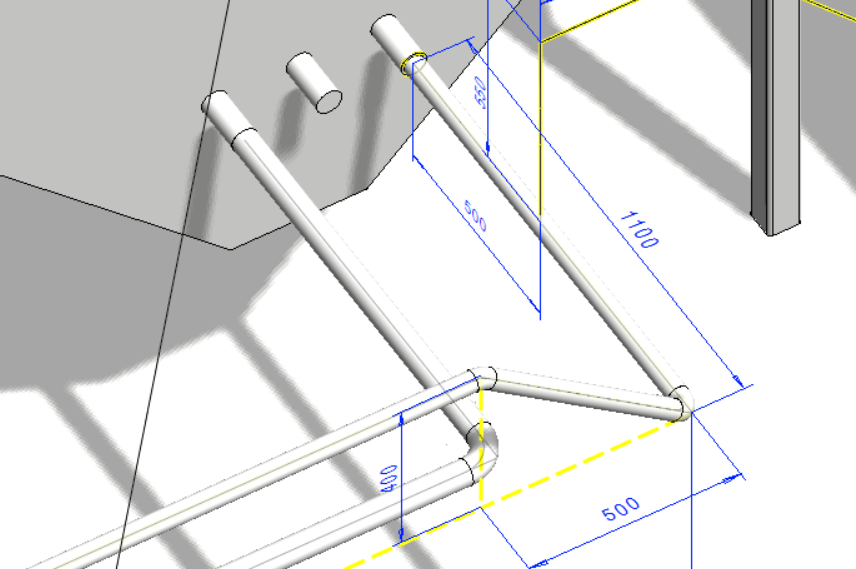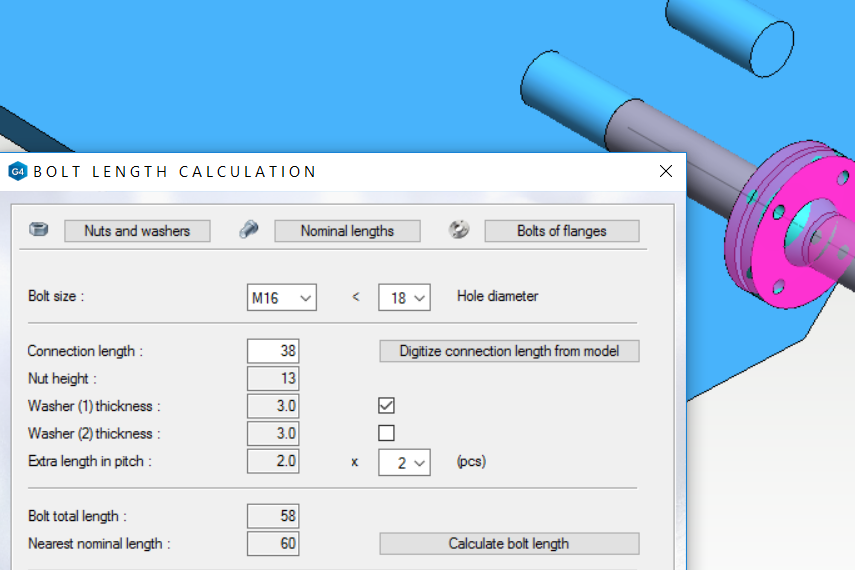 Produce isometric drawings with part lists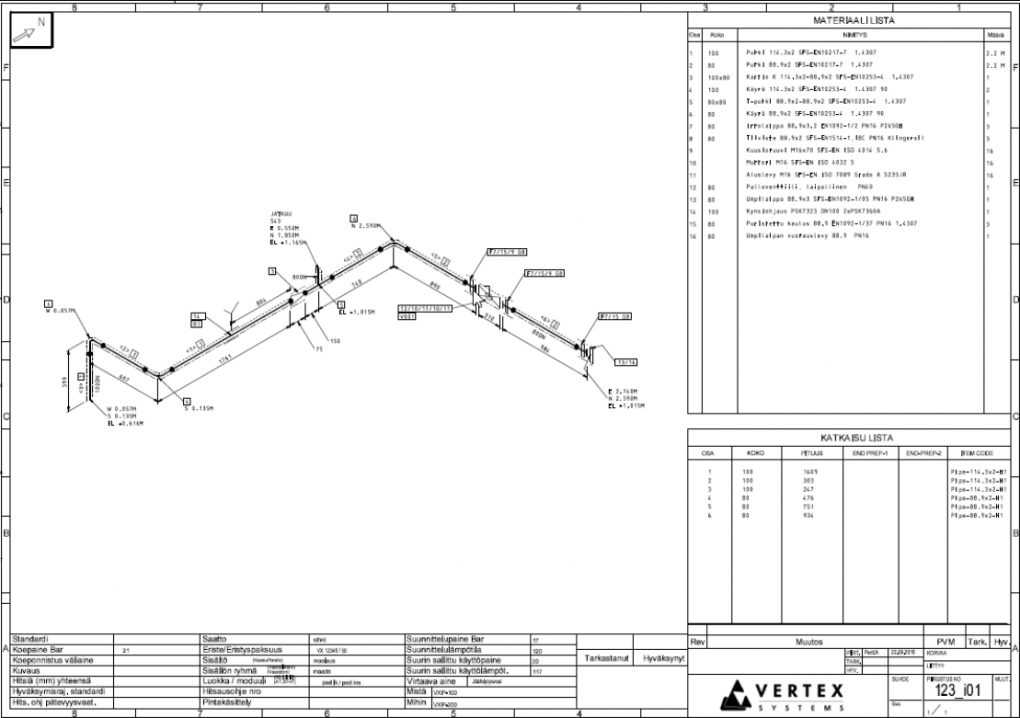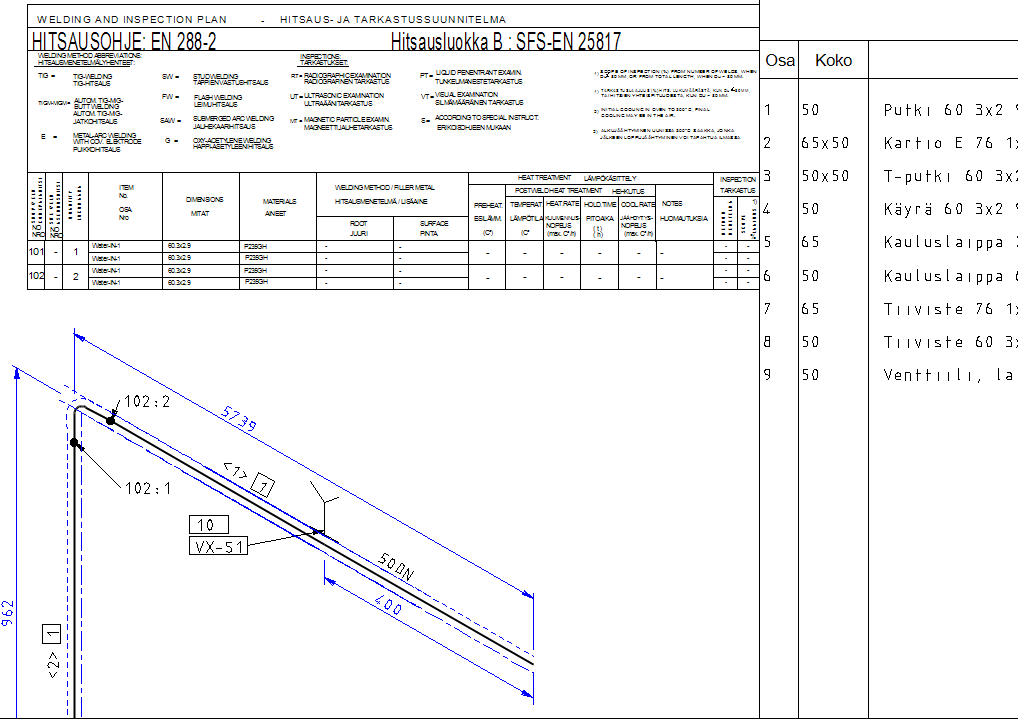 Vertex G4Plant software includes Isogen application to produce isometric drawings integrated into the software.
It allows you to get an automatically dimensioned isometric drawings with parts list from the 3D pipeline or selected pipeline sections.
It also includes a customizable library of isometric symbols and tools for editing isometric forms and other isometric contents.
Piping supports fast with correct information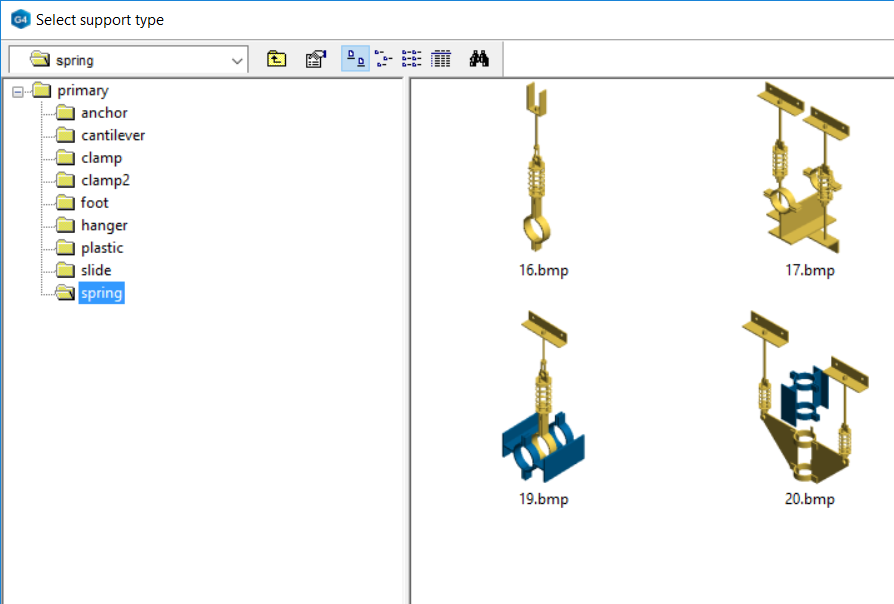 Vertex G4Plant includes the latest primary support library with metadata according PSK 73 series of standards. Secondary supports have their own type library .
You can also model the secondary supports using profile library according to the situation.
The highly automated support drawing application brings significant speed to produce often large amount of support drawings quickly.
Above the standard support libraries we also offer further Lisega and Hydra Primary supports with dimensioning from manufacturers.
Truly insulated pipelines make a reliable and informative part of layout.
Insulation is added to the pipeline assembly clearly as a visible part models. Insulation can easily produced around an existing pipeline with listable metadata. For the right choice of insulation application contains covering insulation tables.
Insulation is also shown isometric drawings if needed. The new technology allows to use assembly-type of insulating material, for example sheet metal.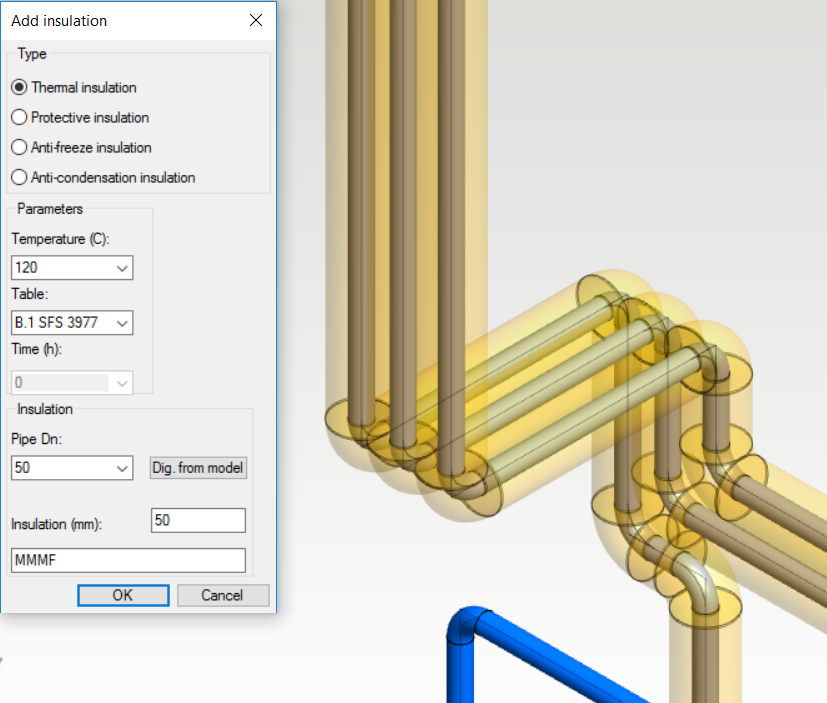 Check the collisions during your design
G4Plant checks quickly and clearly the possible collisions of individual pipelines and marks these in the model.
To detect the collisions there are different alternatives according the situation and needs.
Found collision locations and type remain in memory for easy recall and corrective measures later on.
Stretch and shape, connect and disconnect , now easier than ever !
Route circular or rectangular ducts and add components with customized dimensions easily.
Also ready-to-use duct components from different suppliers are available.
The libraries contain conversion parts, segment elbows and other special parts.
In special cases you can also model freely and use unfolding of parts for production drawings.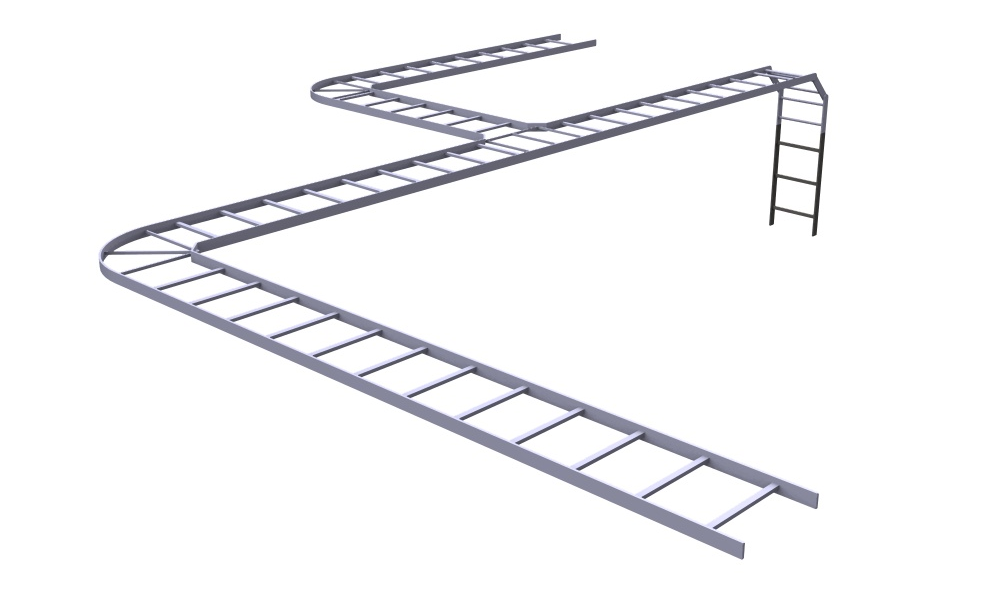 Experience the ease of modeling service platform structures
Design service platforms and stairs with handrails as easily as piping.
Stairs and service platforms are designed with a comprehensive, interactive and automatic tool.
After selecting the type of platform and stair you start routing. The generated 3D model is fully editable.
Lengths, widths, heights and stair angles in the automatically generated part assemblies can be freely modified afterwards.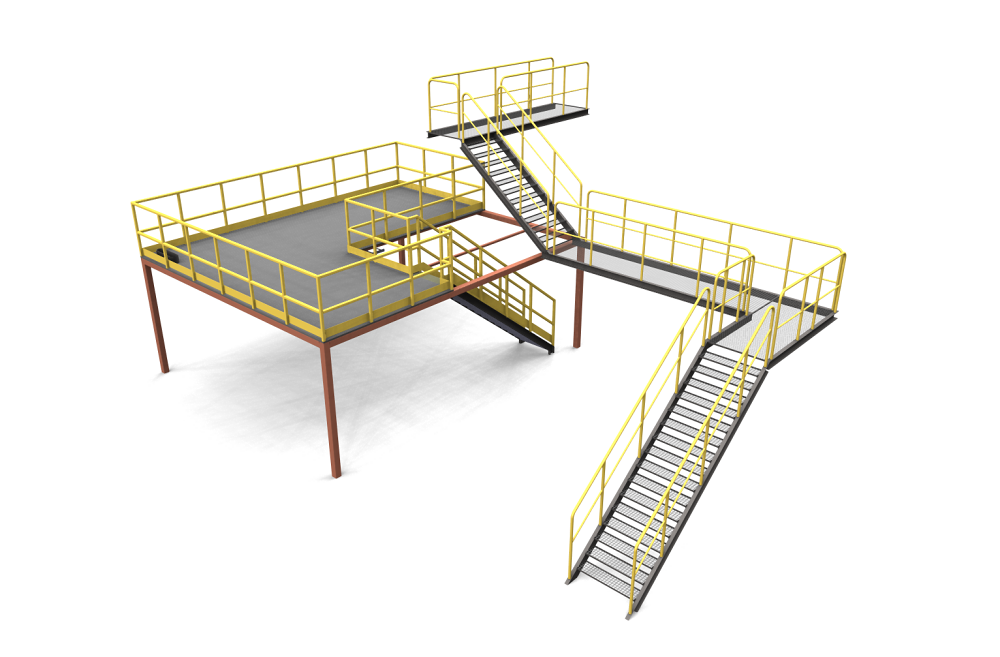 Design of Profile Structures
The information model of smart profiles gives the data to Excel, IFC or 3D PDF file format.
The software includes versatile functions for adding profiles and for trimming the profile ends.
A comprehensive library of profiles is included. Users can complete it by saving there their specific profiles.
Above basic lists, profiles can be presented in a specilized cutting list with drawings. Drawings contain profile cross sections and cutting angles at profile ends.
PI-diagram and Plant Design, seamless cooperation
The design information contained in process diagrams and the whole project is utilized effectively in 3D piping design.
At a certain stage the process diagram can be published available for the piping design.
Piping Designer can opened the diagram alongside 3D model and simply pick up the positions to be placed in the 3D model as components.
This way the model and the diagram are always convergent and up-to-date.
All device cards of the project can be browsed visually and listed in different formats,
for example Excel. FIND-ILLUMINATE helps to find locations of the positions and the information from the diagram or model with ease.
Process design can follow the process of 3D modeling with a special view.
The position contents in the diagram and model can be compared with each other to find needs for corrections.
Teamplay with almost any third-party software
Vertex G4 Plant provides a standard interface to the popular pipe stress analysis software Fpipe .
Export Vertex steel and tubular structures to FINNSAP- strength calculation software (FEM) using a special connection (optional feature).

At the moment the most popular 3D conversion formats are:
IFC import and export | STEP import and export | 3D PDF export | DGN ( Microstation ) import
DGN import allows you to read 3D models and 2D drawings created in MicroStation directly G4Plant software. Converter supports DGN file versions v7 , V8 and V8i models and drawings.
In G4Plant the feature tree hierarchy is built by the DGN model geometry types, according to which the parts are classified and named in the feature tree.
Also the original colors are transferred from DGN file.
The location of the geometry in DGN model is maintained with respect the origin. This way a plant assembly containing DGN models is quickly built as Vertex assembly by adding part models to the origin of the layout.
Also several part models can be imported simultaneously, which speeds up to set up Vertex assembly.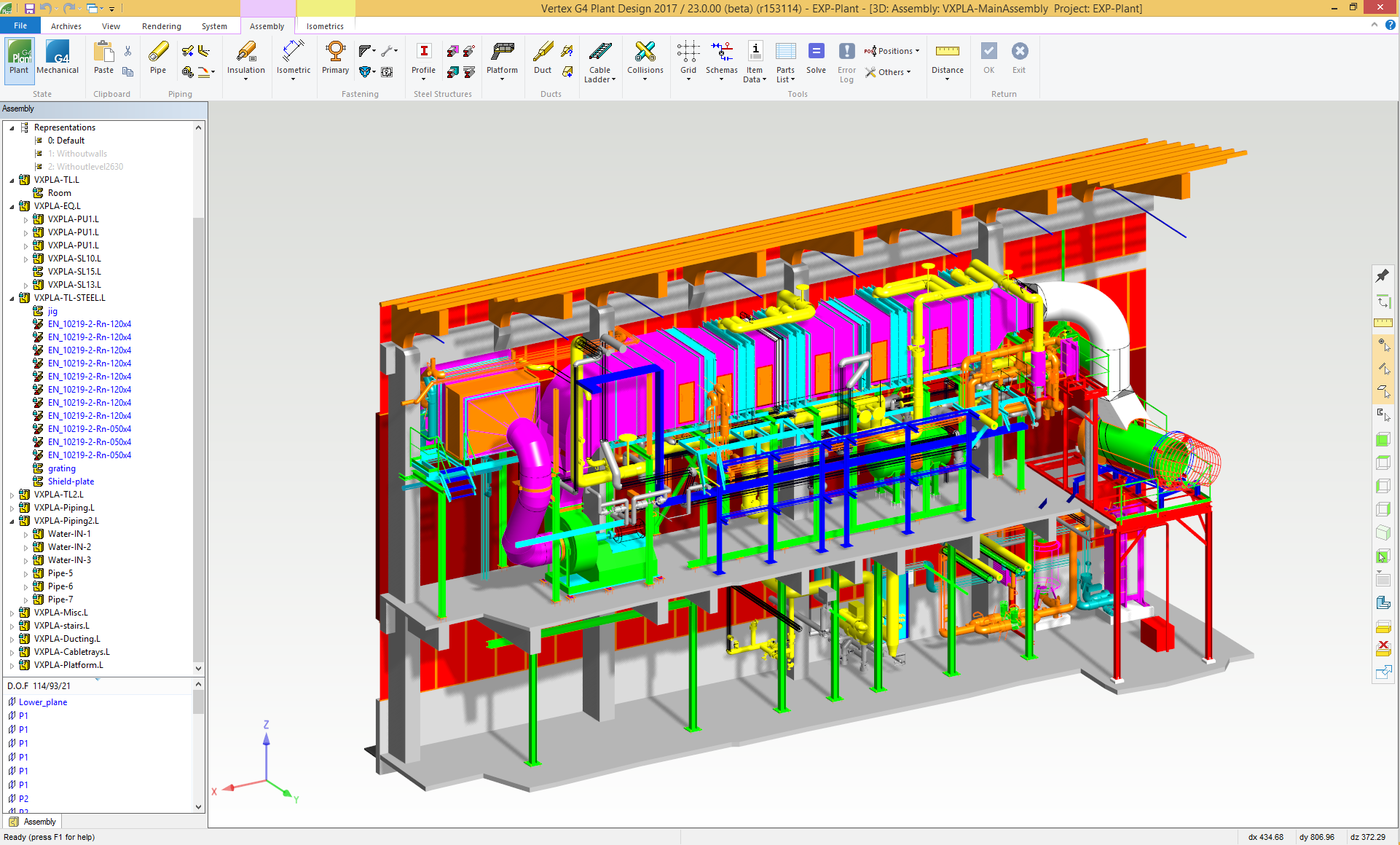 As standard, Vertex G4Plant includes a comprehensive 3D converter package (SAT, 3DS , STL , and VRML export), as well as 2D converter package (DWG , PDF, DXF, DXB , DWF , JPG, TIFF, PNG , GIF and BMP).
Optional converters available :
3D DWG import | SolidWorks import | IGES , import and export | 3D PDF Presenter
Vertex Systems Oy as a software company is also ready to expand the capabilities of the converters by customer's specific needs.
Comprehensive solutions portfolio for plant, instrumentation and process design
Interested?
Test professional plant & pipeline 3D software Vertex G4Plant for free 30 days trial period.