The speed of design and modeling

Versatile design software for working with large plant models for all plant suppliers 
Superior performance for the plant design even in the largest projects
Power tools for 3D layout design:
Lightening tool for heavy SolidWorks and Inventor mechanical models
3D workspace cropping
Lightening link parts from feature tree to 3D shell model or to so-called empty model
Lightening and cropping of point clouds
3D-appearance technology
– recover various hidden modes from the model
-appearance-based views, drawings and parts lists
Quickly open drawings without opening a heavy 3D model
Vertex G4Plant and Vertex Flow PDM/PLM power combination:
Vertex Flow cache, download only changed models
Link Vertex Flow to the cloud, save a quick-open top assembly to your own workstation
Vertex Flow reference model technology, loads automatically inside the cropped 3D workspace
Vertex Flow light models
Vertex Flow background converters
Custom Flow, for SolidWorks -models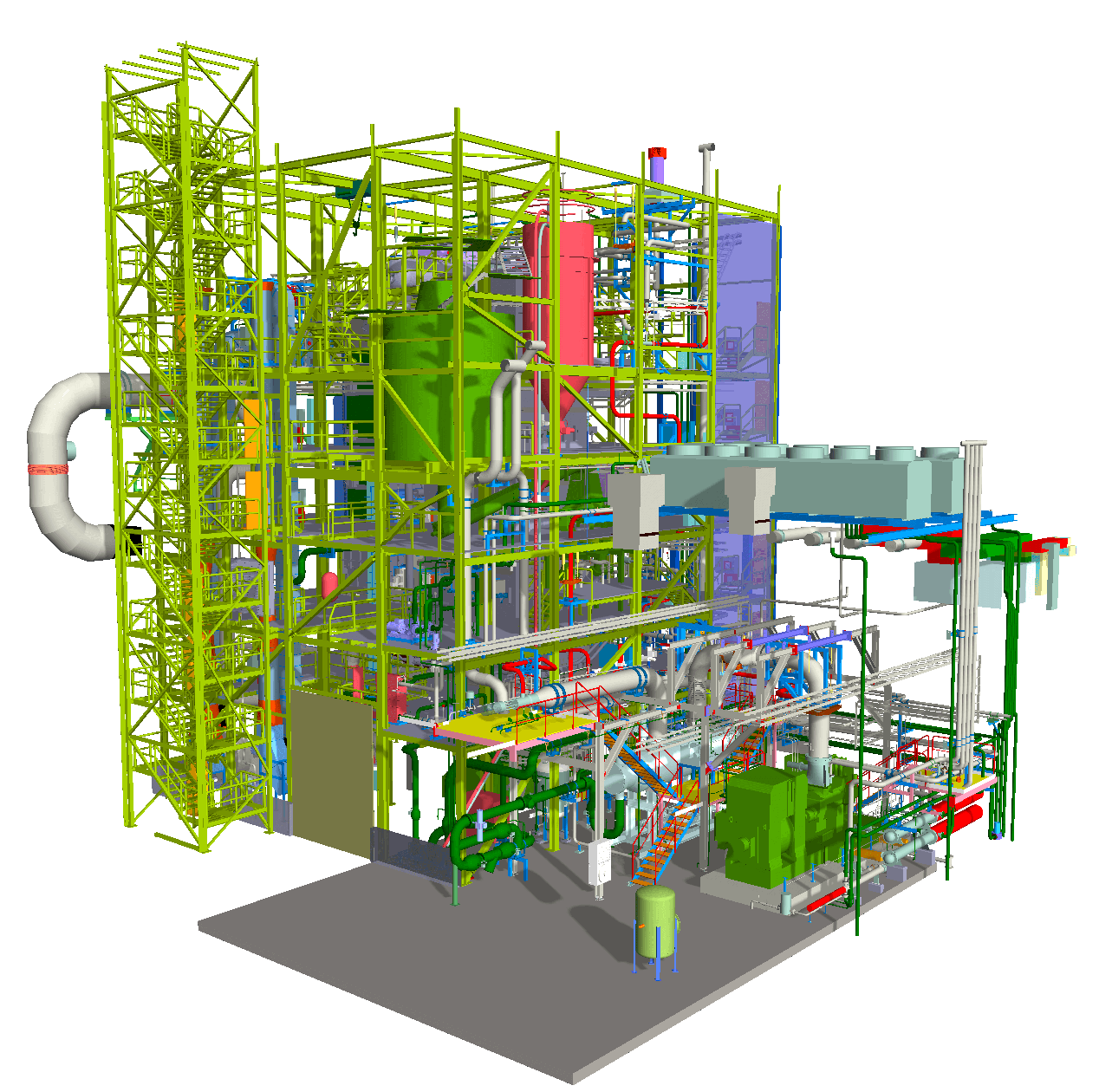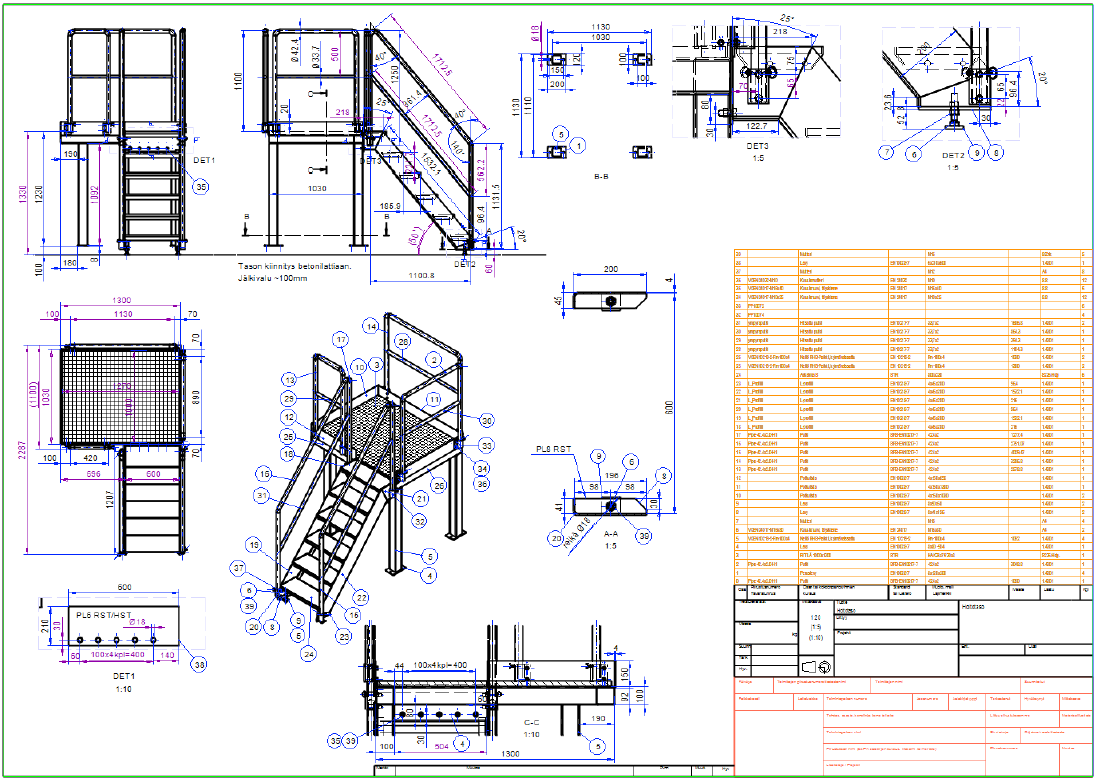 Produce detailed manufacturing drawings with ease from 3D model 
Layout drawings
Dimensional drawings
Isometric drawings
Shape drawings
Plane cuts and views
Steel structural drawings
Hybrid drawings (vector + raster)
Axonometric 3D views, eg for pipe installations
Exploded views
Spreadsheets
Flame cutting drawings
Interplay with almost all third party software
Standard converters
3D: SAT, 3ds, STL
2D: DWG,PDF, DXF, DXB, DWF, JPG, TIFF, PNG, GIF, BMP
Add-on converters
IFC import ja export
STEP import ja export
3D pdf export
DGN (MicroStation) import
3D DWG import
SolidWorks import
Iges, import ja export
3D pdf Presenter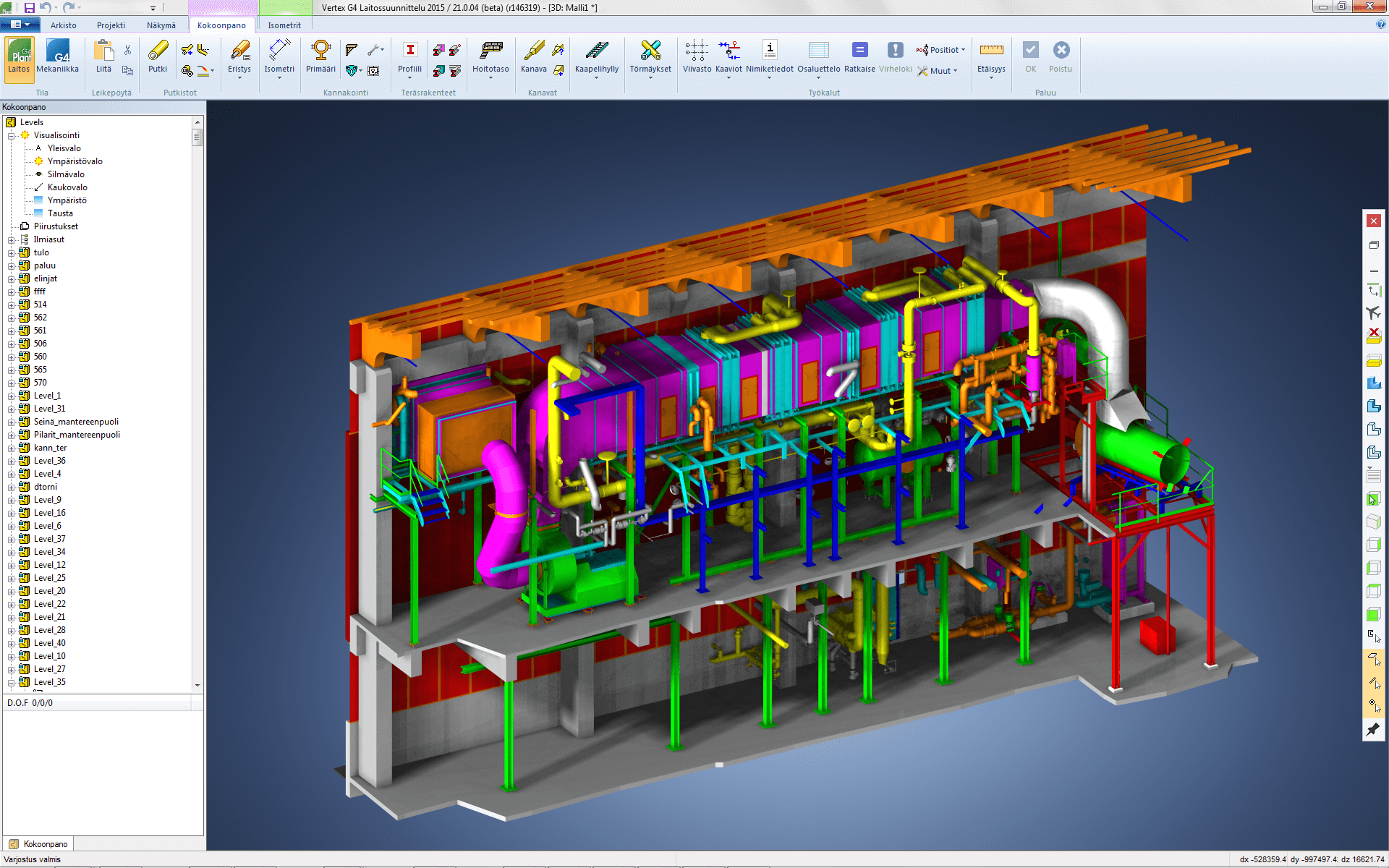 3D model imported with DGN converter
Easy to learn, modern user interface
Vertex G4Plant is CAD software for designing plants and related equipment and structures. You can also produce drawings without using a 3D model. To manage drawings and models, the software utilizes a built-in design data management system.
The speed of design and modeling is based on powerful special functions that allow you to build an intelligent plant model in an illustrative and fast way, utilizing ready-made library components. Using the software is easy to learn. The modern interface provides clear pushbuttons in a polished order to suit the workflow. G4Plant also includes extensive G4 mechanical engineering package.
Illustrate your design in the surrounding terrain
Model the surrounding terrain easily with terrain modeling tool with the help of contours of a 3D DWG files.
You can also modify the terrain model, or add realistic textures on terrain.
Use powerful parametric tools and comprehensive component library for modeling the building and equipment.
Customizable visualization features allow creation of finalized architectural drawings.
Save design time and costs by using Import -features with a wide range of supported CAD file formats.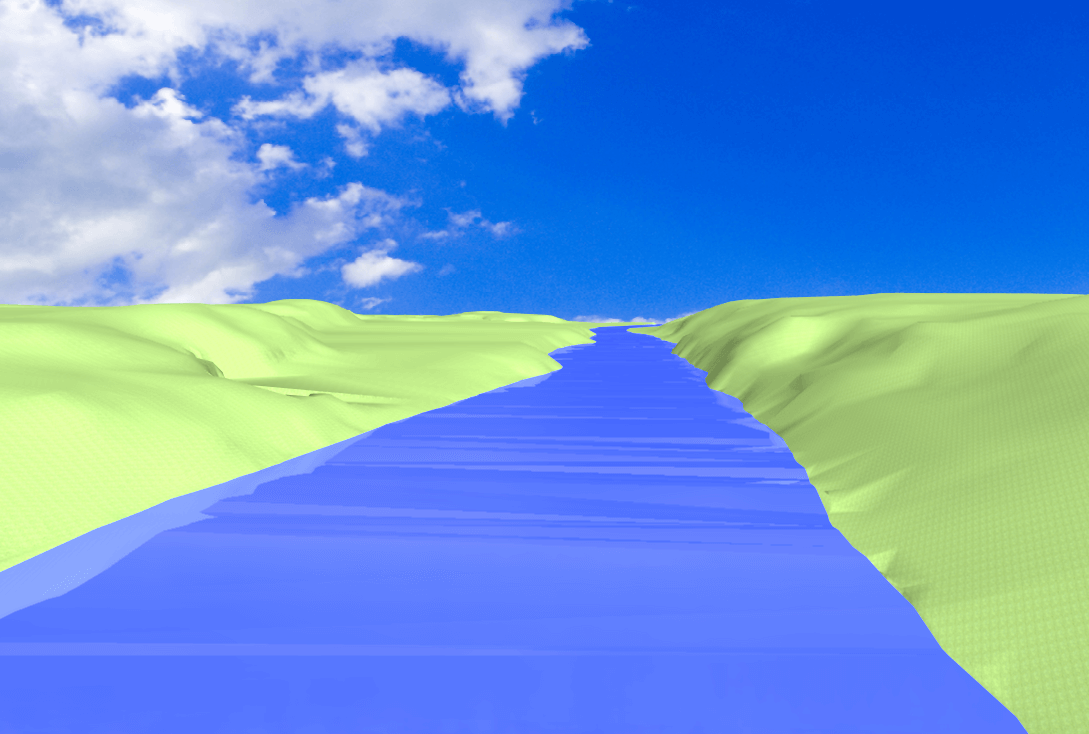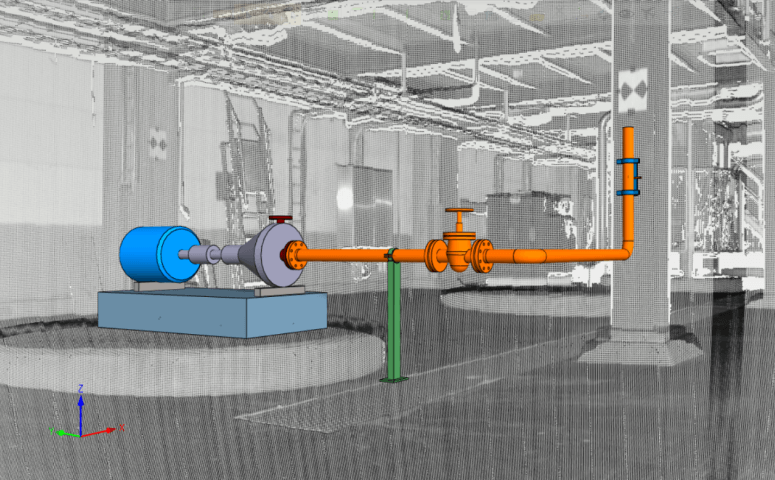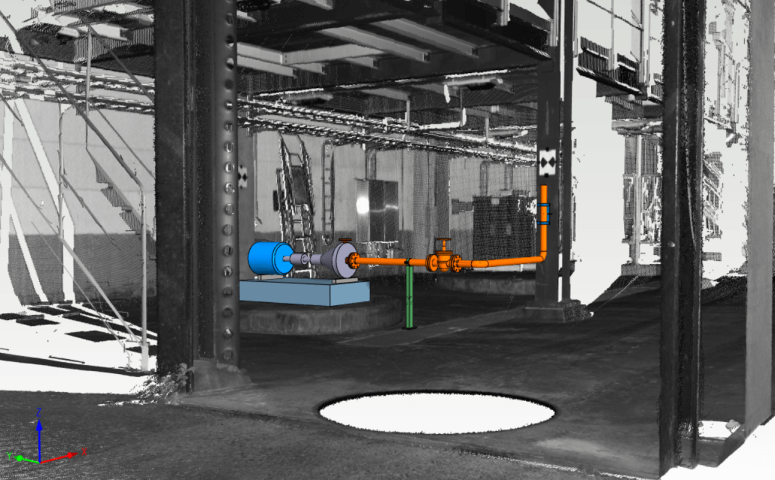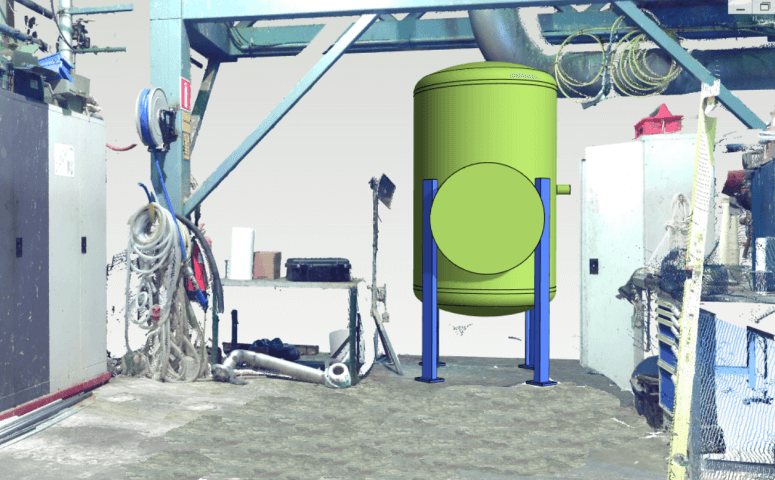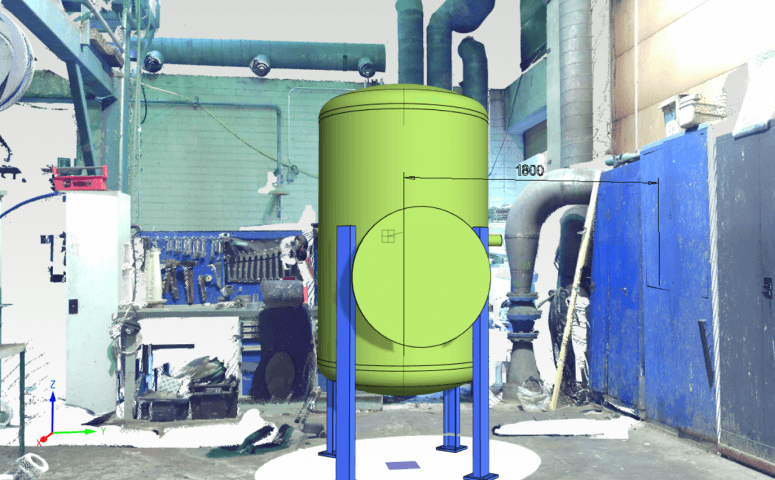 Point clouds – Fast and errorless renewal design
Laser scanned point cloud brings your design object to Vertex realistically and accurately.
Point clouds can be imported in following formats: ascii ( xyz ) , LAS , LAZ , PTS , PTX , E57 , STL.
Vertex supports scanning view points as well as intensity values ​​and colors, if these are stored in the point cloud file.
Vertex also takes care of triangulation with cloud file points for shading.
You can snap to cloud point for dimensioning and reference. Part of cloud points can also be deleted by area selection.
Turn on various piping design projects quickly
Vertex G4Plant always contains all the pipe classes by PSK Standards Association and an extensive library of piping components .
Create the piping model with powerful design features and generate the isometrics automatically from the model.
Piping designer has always a seamless connection between process design and process information.
Clear and consistent user interface in G4Plant software means it´s easy to learn and you can quickly start using it.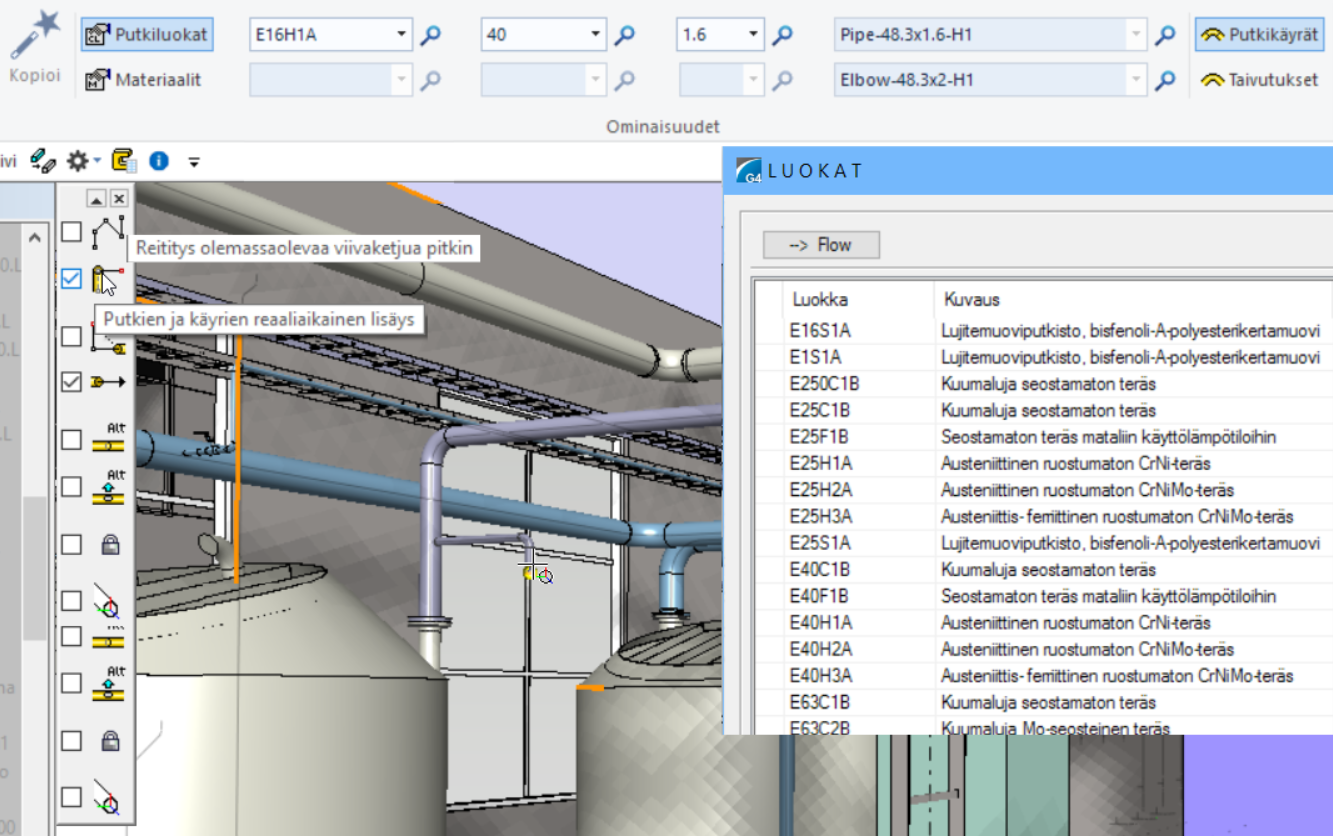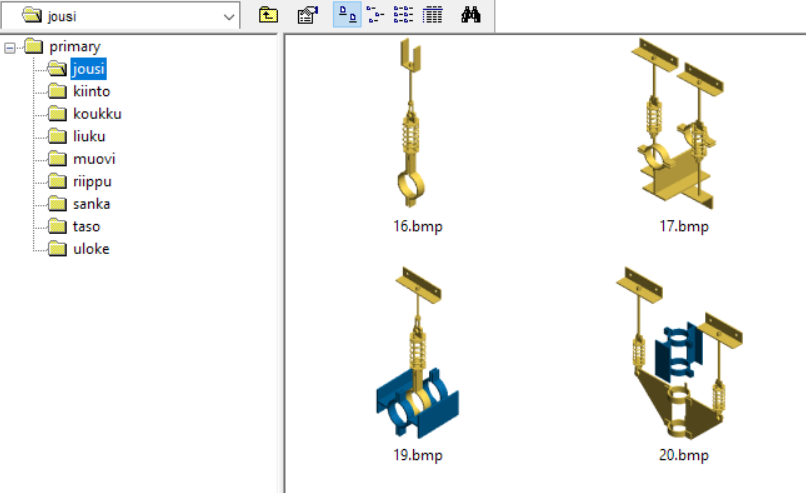 Piping supports fast with correct information
Vertex G4Plant includes the latest primary support library with metadata according PSK 73 series of standards. Secondary supports have their own type library .
You can also model the secondary supports using profile library according to the situation.
The highly automated support drawing application brings significant speed to produce often large amount of support drawings quickly.
Above the standard support libraries we also offer further Lisega and Hydra Primary supports with dimensioning from manufacturers.
Truly insulated pipelines make a reliable and informative part of layout.
Insulation is added to the pipeline assembly clearly as a visible part models. Insulation can easily produced around an existing pipeline with listable metadata. For the right choice of insulation application contains covering insulation tables.
Insulation is also shown isometric drawings if needed. The new technology allows to use assembly-type of insulating material, for example sheet metal.
Produce isometric drawings with part lists
Vertex G4Plant software includes
Isogen®
application to produce isometric drawings integrated into the software.
It allows you to get an automatically dimensioned isometric drawings with parts list from the 3D pipeline or selected pipeline sections.
It also includes a customizable library of isometric symbols and tools for editing isometric forms and other isometric contents.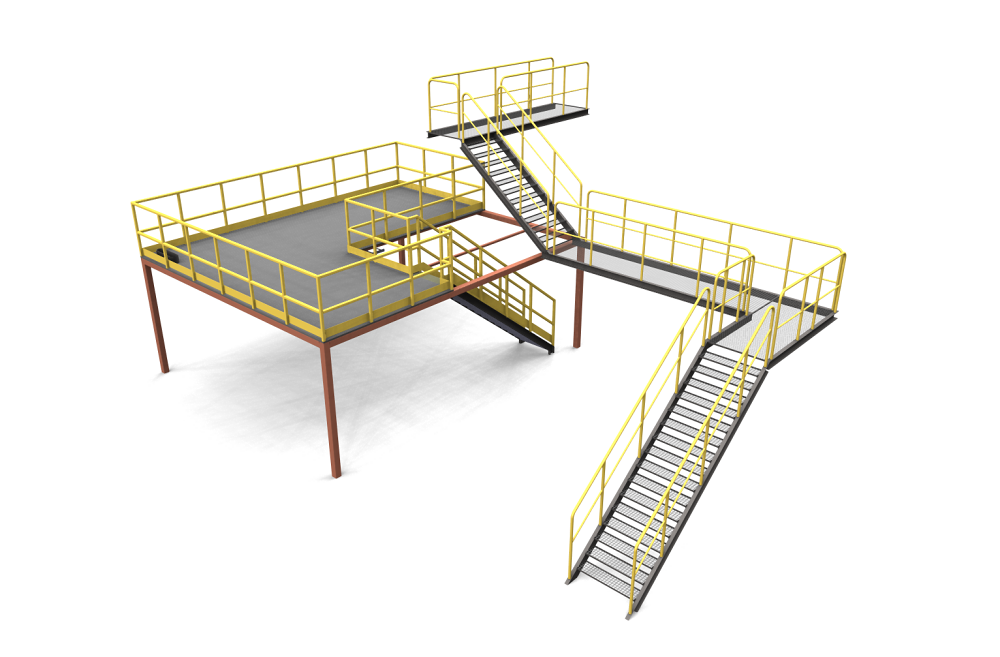 Experience the ease of modeling service platform structures
Design service platforms and stairs with handrails as easily as piping.
Stairs and service platforms are designed with a comprehensive, interactive and automatic tool.
After selecting the type of platform and stair you start routing. The generated 3D model is fully editable.
Lengths, widths, heights and stair angles in the automatically generated part assemblies can be freely modified afterwards.
Share plant 3D model to all parties in the project
efficiently and securely with Vertex Showroom service
Vertex Showroom service converts 3D plant models created with Vertex CAD software into illustrative virtual models that can be securely shared and viewed on a smartphone, tablet, or computer browser. The virtual model created for the service contains also design data in an easily accessible format.
Create a free account and start collaborating with your customers, partners and manufacturing teams today! https://showroom.vertex.fi
Click to view the virtual heating plant model from Vertex Showroom service embedded on this page.
Interested?
Test professional plant & pipeline 3D software Vertex G4Plant for free 30 days trial period.