Prefab Systems + BIM — a Winning Combination
To truly appreciate prefab construction and all its benefits, you have to understand how prefab structures come together.
Blog Post

February 2020
Pekka Moilanen
In the broadest terms, prefab (or modular) construction involves producing standardized building components in an off-site factory before transporting and assembling them on-site. While that assembly process often looks similar from one prefab project to the next, the different types of prefab systems that are available vary significantly.
While some projects are constructed from simple prefab wall panels, others are built with three-dimensional units that come fully serviced with doors, windows, and fixtures already installed (see illustration below). While the two-dimensional prefab components require more on-site assembly, 3D volumetric units arrive at the job site ready to install.
Here, we take a closer look at the two different types of prefab systems, as well as the pros and cons of each.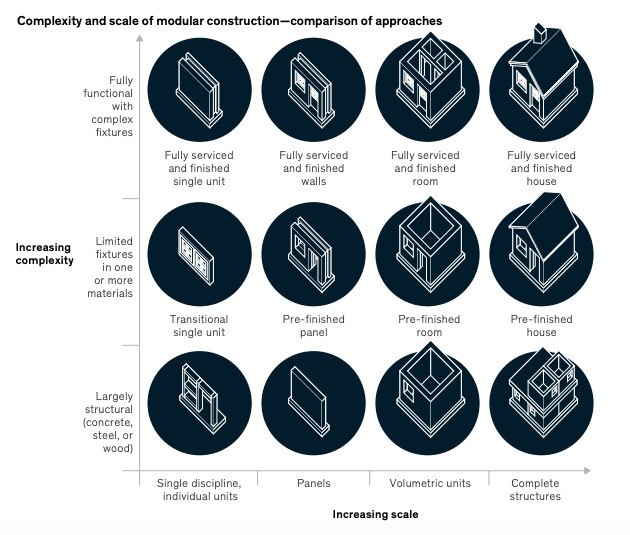 Modular construction covers a broad set of approaches, from simple panels to fully serviced rooms — even pre-assembled houses. Source: McKinsey & Company.
3D Volumetric Components
A 3D volumetric prefab system is a fully outfitted unit that is assembled on-site by lifting each module into place and connecting it with other modules — much like a series of Legos. These units can be a full room or a partial room, and most of the finishing work is completed in a manufacturing facility prior to delivery to the job site.
Pros: Because 3D systems are assembled almost completely off-site in a controlled facility, there is less damage and material waste, no weather delays, and more precision in the assembly process. These systems provide a huge potential for maximum efficiency in terms of time and cost savings.
Cons: 3D units can be BIG — which can sometimes lead to hang-ups around size limitations and potential transportation costs.
Best Use of 3D Systems: Because transporting larger units can be complicated (and often costly), 3D volumetric systems are well suited for hotels, hostels, and affordable housing complexes where the same system can be repeated and installed over and over again. They are also a good choice for spaces that require more intricate finishing work (think "wet rooms" like bathrooms and kitchens), since all of that can be better controlled and protected in a factory environment.
Potential Cost Savings: When evaluating the cost for an affordable housing unit of four floors, McKinsey found that using 3D solutions could be 24% less expensive than a traditional approach.
2D Panelized Components
A 2D panelized system is just what it sounds like — a prefab panel that is delivered to the job site and is then connected with other systems to create different rooms or spaces within a larger structure. Where necessary, panels can come pre-prepped with conduits for services like HVAC, plumbing, and electric for more streamlined on-site assembly.
Pros: Because they're 2D and can be stacked, prefab panels are typically much easier to transport than 3D units. While you can deliver more materials at a time and at a lower cost, you will have to spend time and money to complete more of the assembly on the construction site.
Cons: While the actual connections between panels are typically simpler than the connections between 3D modules, there is much more piece-by-piece assembly required. Contractors will also have to do more of the internal finishing on the job site while the panels are exposed to the elements.
Best Use of 2D Systems: 2D panelized solutions offer more flexibility than 3D modules. Large, open-plan office spaces are a good example; the point of these structures is for less compartmentalization, which is what 3D systems are most often used for. Regardless of size, 2D panels also work well in custom residential projects where each home is different and the ratio of wet areas to dry areas is lower.
Potential Cost Savings: When evaluating the cost for an affordable housing unit of four floors, McKinsey found that using 2D systems could be 17% less than a traditional approach.
The Hybrid Approach
While some structures feature only 3D modules or only panels, hybrid projects that include a combination of 2D and 3D systems are becoming an increasingly popular option in prefab construction. To use this approach effectively, some design and construction teams are manufacturing bathrooms as 3D pods, and then building the rest of the structure with 2D panels. This optimizes the construction process for the two different areas of the building, brings high-productivity improvements to the bathroom areas, and provides maximum flexibility for all other areas.
Potential Cost Savings: McKinsey found that a 2D and 3D hybrid solution would lower costs by 20%.
BIM for Better Prefab Design
While the benefits of prefab construction are clear, the method is not effective without proper planning and execution. This is where Building Information Modeling (BIM) comes in.
When using BIM to design and build a prefab project, each member of the team can see every detail of the individual prefab systems, whether 3D or 2D. They can also see how each connection will fit together, even when a combination of prefab modules and traditional construction methods are used. Because BIM technology is highly-detailed, interactive, and easily shareable, each designer and contractor on the project can be confident their system will fit and install precisely according to the design. This is an invaluable guarantee that leads to more accurate installation, less wasted materials, and fewer change orders that can impact the overall project timeline and budget.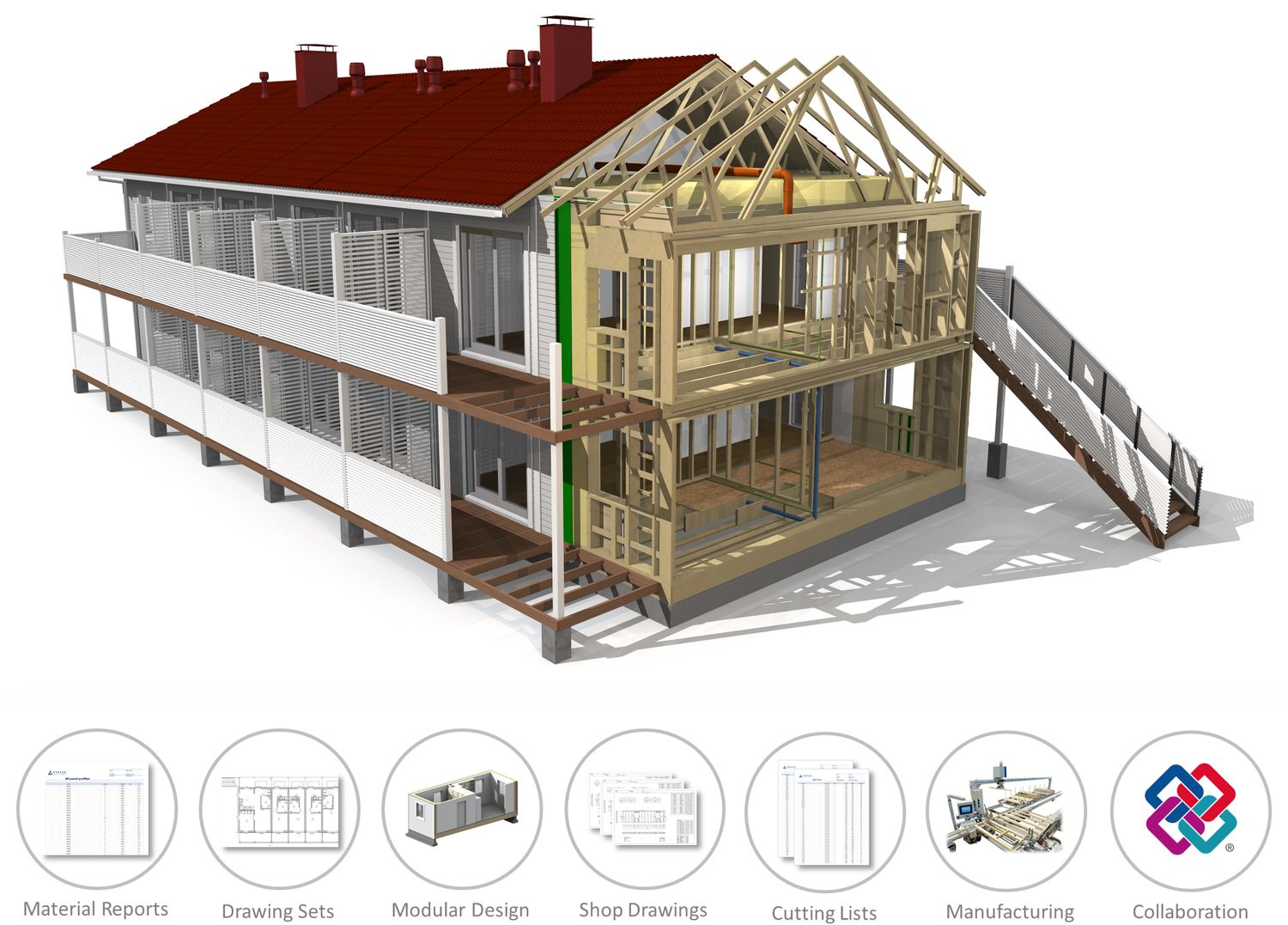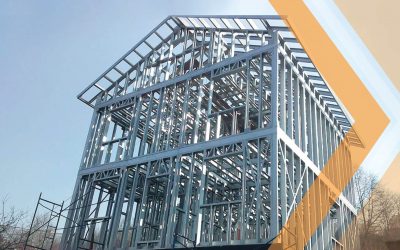 The risk and complexity increase when organizations implement digital transformation in their core operations and technical functions. This is the case for property owners and architecture, engineering, and construction (AEC) firms selecting and implementing a building information modeling (BIM) software platform.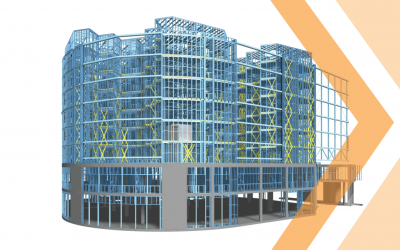 In this blog, I introduce the higher-level benefits of BIM and drill down into the specific areas in which BIM technology excels.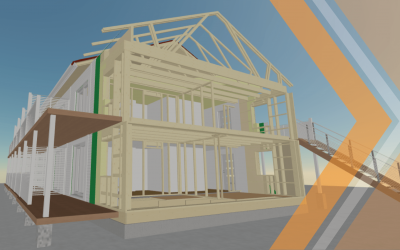 This blog series will walk AEC organizations and other interested parties through the decision-making process for selecting and implementing a BIM platform. I will shed some light on why so many companies are implementing BIM, and I will also highlight some of the best use cases for BIM and share some of our customers' success stories.