ACETRA Zwolle Project: Part One
Project Location: Zwolle, the Netherlands
Project Date: Summer 2021
A challenging site and complicated build restrictions are no match for innovative CLT construction.
Case Study

Client: ACETRA
Country: Serbia
Type: CLT, Wood Framing, Residential & Commercial Construction
Janko Maksimovic
Project Manager, Designer, Partner
Date: April 2022
In construction, challenges come with the territory.
But for some projects, like this three-story residential/commercial structure in the Netherlands, the complications are what take the design to the next level.
"This project was the reconstruction of an old building in the historical part of town," explains Janko Maksimovic, project manager, designer, and partner at Acetra, a structural design firm in Serbia. "After the original structure was demolished, we were asked to create a new building between three existing buildings."
No easy task, but one the Acetra team was uniquely qualified to take on. "We are experts in designing and developing mass-timber and CLT (cross-laminated timber) construction, but we've also worked with concrete and steel for years," says Maksimovic. "This experience is invaluable in hybrid projects where we can combine different materials to execute a unique build."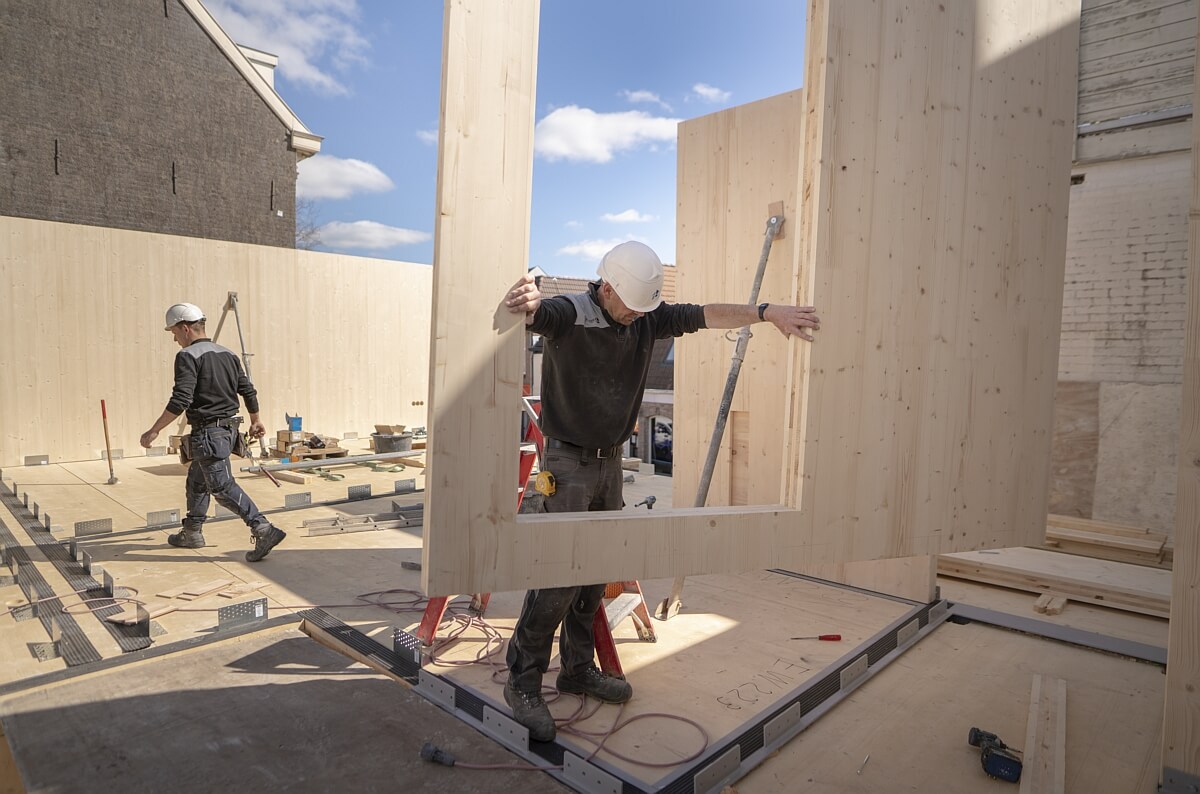 And unique this build was, starting with the complex location. The finished structure had to accomplish two things:
Meet the aesthetic guidelines and blend seamlessly with the surrounding historical architecture of the city of Zwolle.
Fit precisely into the footprint from the previous structure, complete with three levels and entrances from two streets.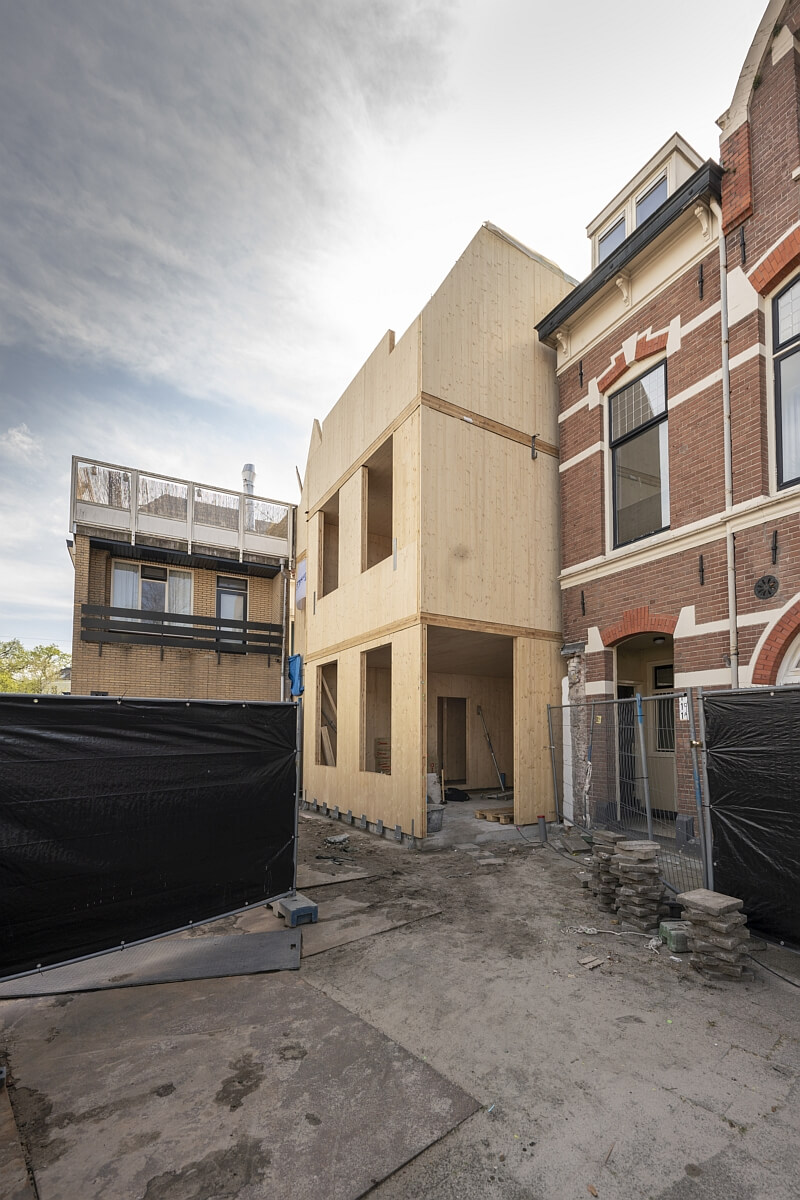 What is CLT?
Cross-laminated timber (CLT) is a large-scale, prefabricated, solid engineered wood panel. Lightweight yet very strong, with superior acoustic, fire, seismic and thermal performance, CLT is also fast and easy to install, generating almost no waste onsite. CLT offers design flexibility and low environmental impacts. For these reasons, cross-laminated timber is a highly advantageous alternative to conventional materials like concrete, masonry, or steel, especially in multifamily and commercial construction.
Anatomy of a CLT Panel
A CLT panel consists of several layers of kiln-dried lumber boards stacked in alternating directions, bonded with structural adhesives, and pressed to form a solid, straight, rectangular panel. Finished CLT panels may be sanded or prefinished before shipping. While at the factory, CLT panels are cut to size, including door and window openings. Finished CLT panels are exceptionally stiff, strong, and stable, handling load transfer on all sides.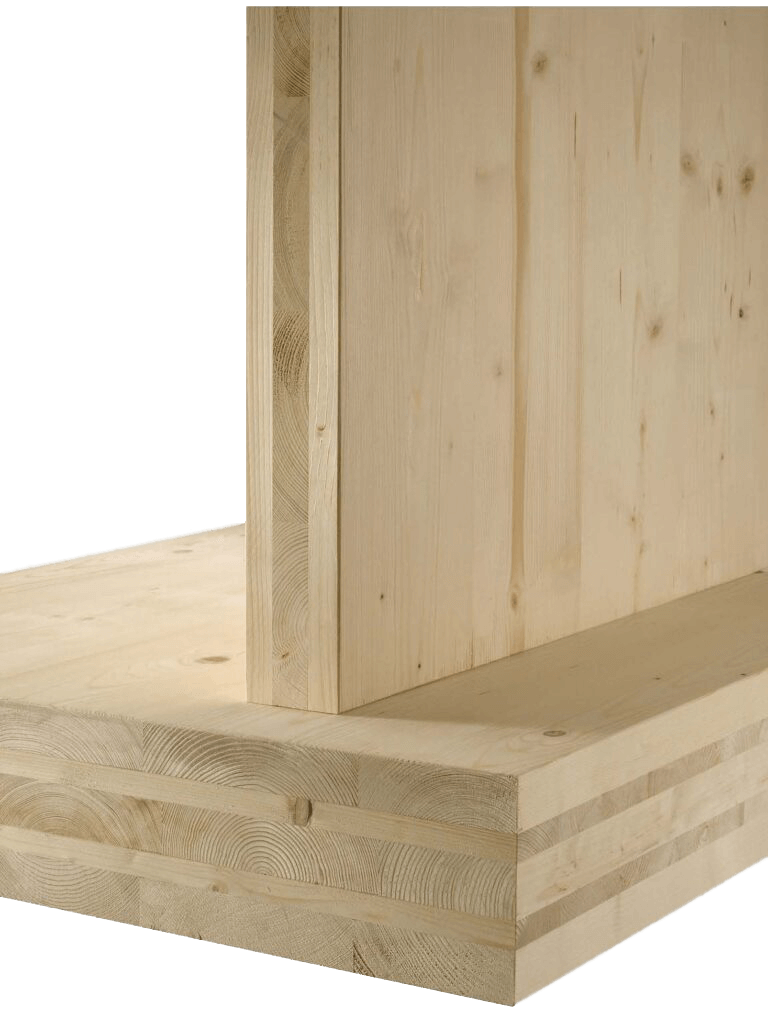 The result is a combined residential/commercial building constructed from 2D, prefabricated, cross-laminated panels — a super-strong product that's a smart option for structural walls, sheer walls, roof slabs, and more.
"Timber construction is very popular in the Scandinavian and is increasing in popularity across Europe," explains Maksimovic, "but it's also an eco-friendly alternative that's becoming increasingly attractive to more and more customers."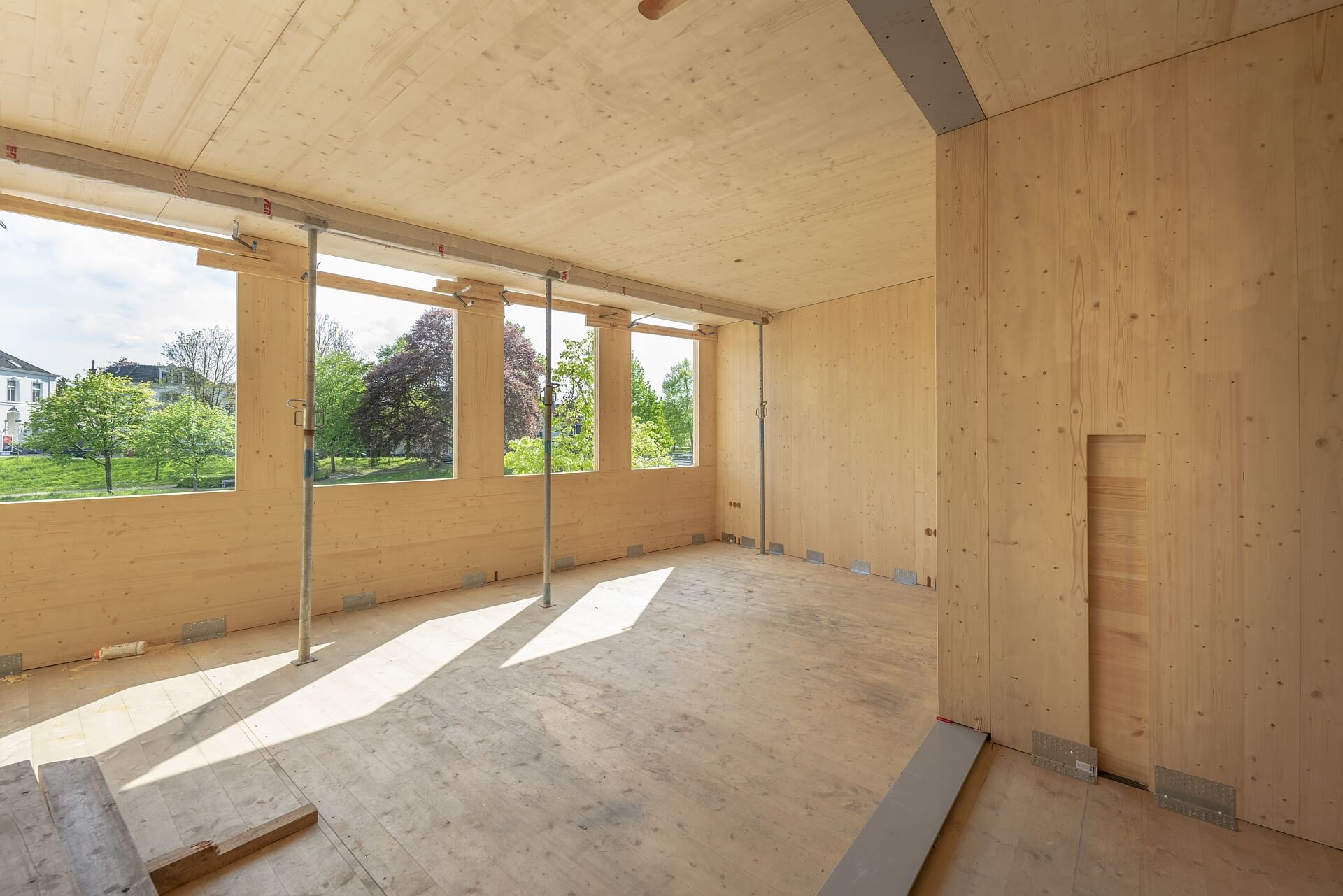 Working with this specific building material meant the Acetra team could help meet some of the strict building requirements of the project, including:
Complimentary Exterior Façade
While the architects designed the look of the building to match the surrounding structures, the Acetra team had to create the CLT panels to which the façade would adhere.
"We needed to be specific about load tolerances to make sure these layers could safely and effectively be attached to our structure," says Maksimovic. "We also needed to make sure everything matched perfectly with the structures to the left and right of our building."
Matching Existing Floor Heights
"The surrounding buildings were built off a concrete slab, so to match the floor heights, we had to use steel beams to fit in the CLT floor," Maksimovic explains. "This solution allowed us to have the shallowest floor possible without sacrificing the structural integrity we were trying to meet."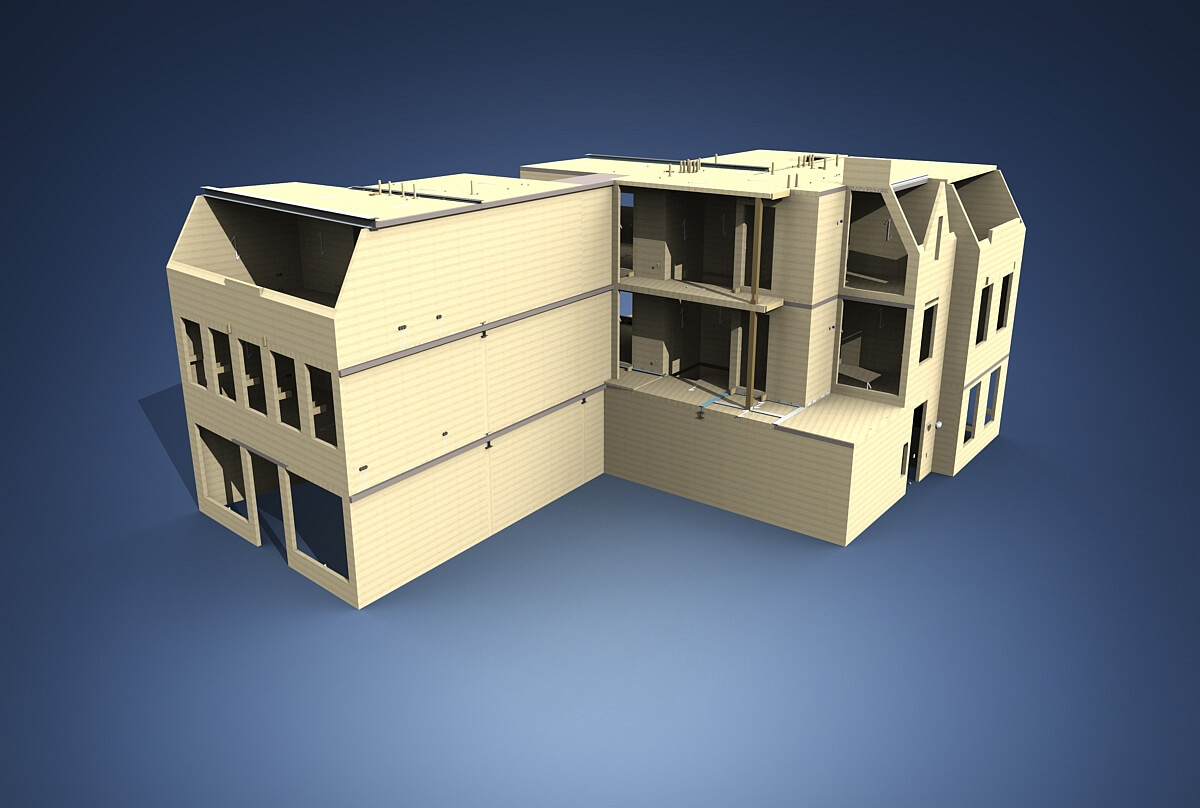 Acoustic Considerations
In timber buildings, where the structural material is lighter than concrete, making it harder to stop sound transmission, acoustic planning is essential. To address this challenge, the Acetra team worked closely with the project's acoustic engineers when designing the walls, floor, ceilings, etc., in some cases thickening the walls or slabs to keep noise from carrying across the structure and into neighboring buildings.
Safety Precautions
Because timber is flammable, heightened fire restrictions needed to be met with this build. "In some cases, this was achieved by adding layers over the walls, but we also needed to create thicker walls in some areas to keep the timber exposed," says Maksimovic. "The clients wanted to see the timber, so we had to carefully calculate the width of the walls to meet code in case of a fire."
With these goals in mind, the Acetra team got to work designing the structural components of the over-ground structure. This process took roughly 10 weeks to complete with the assistance of BIM technology, the architecture team, and contractors along the way.
In part two, we'll dive into the complete design process, including how the team overcame a few unexpected bumps along the way.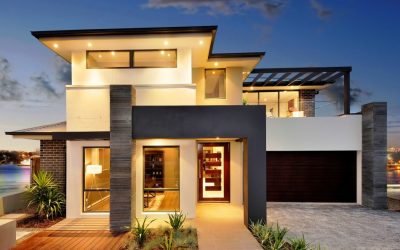 Holder Homes, a leading residential builder in Sydney, Australia, has embraced modular building with the help of Vertex BD. By producing their own timber frames and utilizing off-site construction, the company has successfully navigated supply and labor shortages caused by the Covid-19 pandemic, ensuring timely project completion and cost efficiency.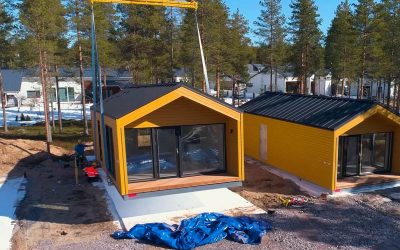 Hawo are a manufacturer and supplier of high-quality tiny homes and holiday houses. They are forerunners in prefabrication, basing their production in a self-developed concept of prefabricated housing.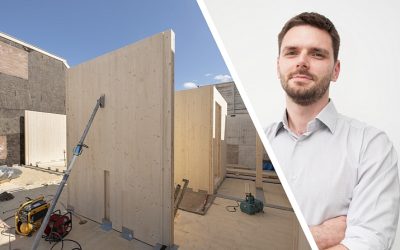 Working together with the entire design and construction team, Acetra advises the assembly of the three-story CLT structure to completion.